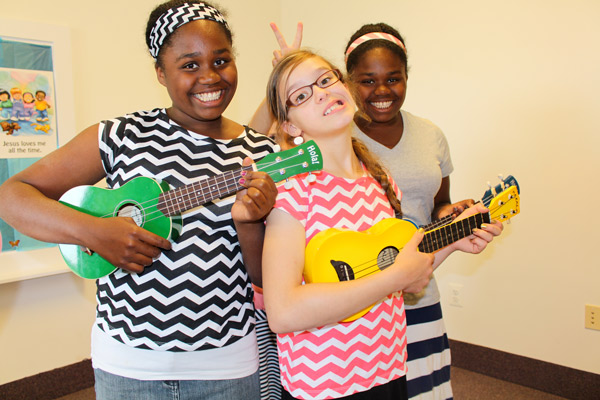 We provide all of the training, support, materials and instruction you need to start an amazing co-op. You will be able to form a community of families who love learning and one another.
Leaders Needed
Future Leader, Do you love Jesus? Do you really love Him? How about your husband? Is he still the greatest guy in the world? Your children, do you thank God every day that He gave you these wonderful children? As a mom of four with a special needs son in the mix, I know that when I have to ask for the fifth time to please put on a clean shirt (this morning) or the kitchen table is no place for frog races (last week) I don't feel at that moment that my children are wonderful, but most of the time, do you praise God for your children? If you answered yes to all three questions then you would probably be an amazing Eden Hope Academy Leader! "For out of the fullness of the heart, the mouth speaks." Luke 6:45 We can help you find a church and host information meetings.
We can teach you ukulele and dance. But when you lead an Eden Hope campus, the words that flow from your lips will impact students for the rest of their lives. Your words and actions must have the sweetness of God's Word, His tender mercies, and His grace in abundance. Loving God is THE most important criteria for an Eden Hope leader. I knew God as a child. We moved eight times around the US. I knew God but I didn't know how. In my twenties I committed my life to serving Jesus. My thirties passed and then at the age of forty-one I was driving and I spotted a pumpkin orange Volkswagon station wagon. I almost drove off of the road. My neighbor in Jenks, Oklahoma, when I was five years old brought me to church! In a pumpkin orange Volskwagon station wagon. It all flooded back. Mrs. White would pick up my sister and I and we attended the Bible Bowl. I committed myself to Jesus then, at the age of five, in Jenks, Oklahoma, because of the kindness of Mrs. White and I didn't even remember it until that day over thirty years later. Eden Hope Academy's sole purpose is to point children to Jesus. You could be a Mrs. White. The truth is, you probably already are. If you are interested in starting a group here's what you need to know: Eden Hope Academy provides:
Eden Hope Activity Books Timeline Cards with our Timeline Song Spanish with Mauro the Toucan Spanish Memory Songs Ukulele and dance instruction, either by Skype or seminars in your hometown Art projects with bins containing all supplies each week with descriptions and examples All science projects in weekly bins with lab notes and instructions.
What you would need to do:
Contact us! We would love to discuss starting a campus with you. Host an information meeting in your hometown. We will help you with this! We will send you all of the supplies you will need and provide Skype support if you have questions during your meeting. Ask your pastor or local libraries if they will allow your group to meet in their facility. Eden Hope staff will help you here too! Most churches welcome Eden Hope Academy. They love seeing children worship Jesus during the week. Pray about moms who would be great art, science, presentation, ukulele and dance, and Spanish leaders. Does that sound daunting? God ALWAYS provides. If your group is small, that is good too! All of the instructions and materials come in the materials bin. There is NO prep work! One mom could easily lead two groups. If you have absolutely no idea where you would find a Spanish teacher, that's ok too! Our Spanish program comes with a fun CD and our staff can recommend fun on-line pages and activities to do during this half hour. Meet with Eden Hope trainers, either in person or over Skype. We'll talk you through the start-up process and help you bless children.
Contact us! If you're ready to bless children, we're ready to help! With love, Kim Glanowski Founder, Eden Hope Academy